Businesses need to balance speed, flexibility and efficiency to thrive.

We are living through an unprecedented time of great change and upheaval. A global pandemic and geopolitical tensions have led to tremendous uncertainty for many businesses across virtually every industry vertical.

There is an increased need for enterprise agility and the ability to make better informed, faster decisions to survive in this rapidly changing environment. That's why so many businesses are embracing composable technology stacks that balance flexibility and efficiency with rich sets of powerful capabilities.

This approach is being driven by customer demand and business need, with organisations seeking flexibility to create powerful and compelling digital experiences unburdened by the limits of outdated legacy technology suites.

As businesses shift into a post-pandemic renewal phase, those that embrace this agility are likely to be the ones that evolve and grow. Those that don't are likely to stagnate and ultimately fail.
"Through 2022, the rapid innovation forced by the COVID-19 outbreak will accelerate the transition of 60% of organisations toward composable enterprise."

Yefim natis - gartner distinguished vp analyst and research fellow
Stacks vs Suites
A composable technology stack is an ecosystem of technologies composed of individual architectural elements that are integrated to form a best-in-class overarching solution. This BYOE (build your own experience) approach to systems architecture can be contrasted to a 'monolithic' or suite-based approach that offers a predefined set of capabilities.

Composable architecture deconstructs the capabilities of monolithic suites into individual microservices connected via APIs that can be constructed to meet evolving digital needs of customers and businesses.

Composable is not an all-or-nothing directive: companies are able to start small and grow their composable capabilities organically over time. Taking this approach empowers digital teams not only to bring a product to market quickly, but also to strategically augment existing technology capabilities within a business. It's truly flexible.

By their nature, all-in-one platform-based suites can often be an ideal universal solution for the diverse needs of businesses. However, in certain use cases they can be inherently inflexible. So how do we see this playing out in the real world, client side?

If you are a complex product manufacturing company with a multitude of brands, for example, a single monolithic platform governing your CMS, ecommerce and marketing automation needs can fall short of fully delivering upon the broad range of functional requirements.

It is within these kinds of environments that we often see 'Shadow IT' take hold to work around the shortcomings of legacy systems and departmental red tape. And where teams have to work under the compliance radar with non-approved technologies in order to get things done.

The selection of a stack or a suite ultimately comes down to business and customer use cases, and powerful all-in-one platform based suites can be the right solution in the right scenario. It's all about mapping these requirements with the capabilities of the available technical solutions.
The benefits of a composable approach for businesses and customers
From our experience, large organisations vary greatly in terms of their digital maturity but as a rule, they always have highly complex business needs. Typically those needs are best met with a solution that can be readily adapted for their ever-evolving requirements.

Technology leaders are fast discovering the clear and compelling reasons for providing access to a composable ecosystem of technologies for digital engagement and business transformation. As technology leaders, we are finding through this approach we can differentiate and excel by providing access to a range of services and solutions for digital engagement.

These building blocks can include both open source and licensed software all delivered on a common platform ecosystem. At this platform level we are able to standardise best practices in security, compliance and deployment and provide developers in product teams with the building blocks for delivering the solutions. Choosing this approach can free up businesses and allow them to focus on outcomes.

And let's not forget the customer in all of this. For customers, the bar is continually raised and set by the 'most recent best' digital experiences they have had. Second best for today's customer is simply not good enough. (86% of customers would leave a brand after as few as two poor experiences according to recent research.) This technology approach facilitates the development of exemplary digital experiences that are engaging, frictionless, relevant and personal.

Flexibility - A composable technology stack can transform a business' ability to grow, scale and rapidly adapt to ever-evolving customer needs. This is not an all-or-nothing approach: choosing this path can enable tech teams to strategically swap out one component of a monolithic stack in order to prove the value early, gather insights and build out from there with confidence.

Decoupling the front end also has powerful benefits in terms of creative freedom. Businesses can select the front end web / app technology that best suits the use case in question, freeing creative and front end teams to do their best work by delivering immersive digital experiences to customers.

Speed - Taking a composable approach to constructing your technology stack can also have a number of benefits around business agility and speed, allowing products to get to market quicker, realise their value earlier and respond more rapidly to market changes.
"By 2023, organisations that have adopted an intelligent composable approach will outpace competition by 80% in the speed of new feature implementation."
Critically this also allows you to construct your operational business models around this approach. Towards the end of 2020, Gartner produced a fascinating keynote titled The Future of Business is Composable describing the 'composable enterprise' as an organisation being constructed from interchangeable building blocks. This modular, block-based approach to product development allows for different people, teams, or even external companies to work together effectively using common standards and interfaces.

Reliability & scalability - Let's not forget we are talking about composing solutions constructed from a series of carefully-selected SAAS products here. In doing so we are able to reap the inherent benefits of the modern SAAS platform. These include zero downtime, seamless updates, security and patching – all taken care of by the platform. And by using platforms that leverage a microservices architecture, the solution is able to seamlessly scale according to the demands of customers.
The Candyspace ecosystem of composable technologies
At Candyspace, we have carefully selected a number of key technology platforms that allow us to compose best-in-breed solutions for our clients. It is essential that the platforms and technologies we align with support our guiding principles around component interoperability and scalability.

It is worth noting that a number of the technology platforms within our ecosystem are members of the MACH Alliance who advocate an 'open-standards, best in breed enterprise technology ecosystem' with the following guiding principles:

M: Microservices - Building individual services to support customer and business functionality that are highly scalable and independently deployed and managed.

A: API-First - All functionality and interoperability is exposed through APIs ensuring that there is a commonly agreed means of communication between the constituent parts of your stack ecosystem.

C: Cloud Native - Leveraging the benefits of cloud-based SAAS products that provide best-in-breed security, elastic scaling and auto-updates (as opposed to dedicated legacy systems simply placed on to cloud instances).

H: Headless - Allows the front end presentation layer to be decoupled from the back end. This provides immense freedom to create compelling customer experiences that are programming language / framework agnostic.

By leveraging these SAAS platforms and taking a composable architectural approach we have been able to meet our customers where they are on the digital maturity journey and create powerful solutions for their current and future needs.

From a UI perspective, we work across a range of technologies spanning from native (iOS & Android) and hybrid applications (Ionic) as well as a number of front end frameworks and libraries (Angular & React), all of which can be selected and adapted to the specific needs of the project. This provides our development teams with the freedom to build out the rich, clean and intuitive interfaces that are loved by our customers.
From a content infrastructure perspective we leverage the Contentful API-first headless CMS platform. Contentful empowers over 30% of the Fortune 500 and thousands of brands around the world to create and manage digital experiences.

Leading analyst, Gartner, recognise Contentful as a Strong Performer in the 2021 Forrester Wave for Agile Content Management Systems. This allows us to scale omnichannel customer experiences, making flexible content for any digital platform. This is a powerful, enterprise-grade tool for content editors, providing them with agile workflows, allowing them to create structured content for any channel.

For our commerce capability we leverage the BigCommerce platform – commended as Strong Performer in the 2022 Forrester Wave for B2C and B2B Commerce. BigCommerce is a secure and scalable API-first open SaaS platform that provides a rich set of commerce capabilities across B2C and B2B use cases.

The platform has the tools to empower merchants of all sizes to build, innovate and grow their businesses online, and provides merchants with sophisticated enterprise-grade functionality and performance coupled with ease of use. The advantage of the BigCommerce platform is that it caters for a diverse range of sectors where many of our agency specialisms reside, including manufacturing, automotive, FMCG and beauty.

To improve the interoperability of these two key SAAS products, Candyspace has recently developed a BigCommerce Connector – a custom app now available on the Contentful App Store and used by a wide range of companies across a range of sectors.

The BigCommerce connector allows organisations using the Contentful platform to select and add BigCommerce products to landing pages, carousels, promotional elements and much more. The connector stores the BigCommerce product SKU within the Contentful platform, ensuring that data such as price, description, images are always pulled from Bigcommerce making sure that the content is not duplicated and up to date.

Once a product is live it is vital that we are able to iterate effectively and make digital decisions based on insights. To do this, we leverage a number of powerful platforms that allow us to optimise the customer experience by performing customer behaviour analysis, conducting A/B tests, personalisation and targeting.

We use customer analytics platform, Contentsquare, to surface data and insights on how customers are interacting with your digital products. That enables us to answer questions such as: Where are your customers dropping off? How much revenue is a sub par experience costing your business? What are the most important improvements to your product to prioritise that will have maximum impact?

Once you can answer these questions and gain a deeper understanding of your customers' pain points, we can leverage these insights to run iterative experimentation programmes using tools such as Optimizely (Web & Full Stack). This enables us to test new features and content to a small subset of users, before rolling out to your wider audience.

Due to the open nature of our stack, all of these technical capabilities in our ecosystem can be seamlessly integrated with other repositories of critical business data. The interoperability of this data layer is of course facilitated via common API standards allowing for seamless communication between applications and services in the cloud.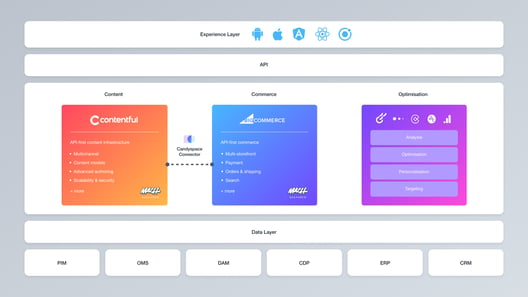 The CandyStack ecosystem of composable technologies.
Empowering businesses and customers
It is now more important than ever for enterprises to be able to respond more effectively and rapidly to evolving business needs and customer demands. Taking a composable approach to your systems architecture provides a standardised method of connecting scalable SAAS platforms, interfacing with front end technologies, consuming databases and accessing cloud services.

This approach facilitates shorter release cycles, faster time-to-market and a lower total cost of ownership. This also provides far greater technological and creative freedom, allowing teams to select the languages and frameworks that work best for their use case, budget and skills.

Taking a decoupled approach to your systems design and by logically separating the UI from the application logic empowers businesses who are not natively digital with the manoeuvrability and flexibility we typically see in today's start-ups and scale-ups.

The shift towards composable enterprise architecture is driven by the need for increased business agility – it allows organisations to design the experience they need, procure the components they need, then to rapidly deliver and continue to adapt.

Ultimately, as technology leaders we really need to ask ourselves: are we spending our IT budgets patching and maintaining our legacy systems or are we spending our valuable tech resources building out the next generation of customer experience?