We are delighted that our partner
Optimizely

has been named a Leader in The Forrester Wave™: Digital Experience Platforms (DXPs), Q3 2021 report.

The Forrester Wave evaluates the top 13 DXPs in the marketplace, against 26 criteria. The assessment criteria include strength of vision, platform and supporting services. The annual report is compiled by leading analyst, Forrester, with the aim of enabling digital and IT leaders to make more informed technology decisions.

Optimizely has been named as one of only four Leaders in the report, gaining strong year-on-year momentum towards the pinnacle of the Wave. This is the fifth analyst report in the past 12 months to commend Optimizely for its advanced roadmap, accelerated by several key acquisitions over the past year, most recently to include the leading customer data platform, Zaius.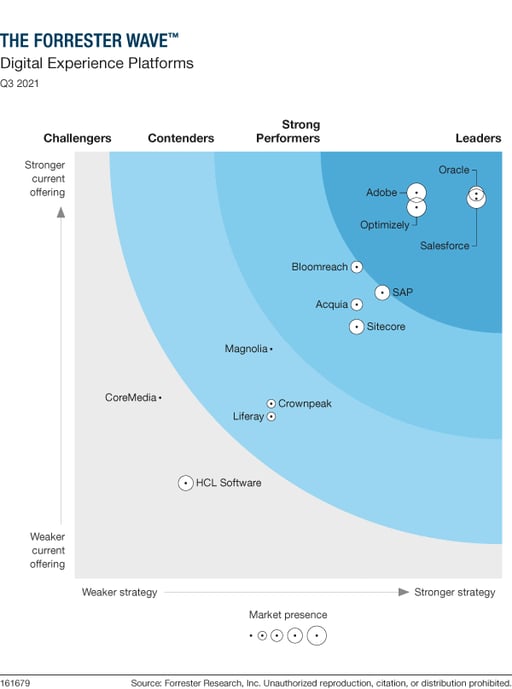 Download The 2021 Forrester Wave™: Digital Experience Platforms report
Key findings from the report
Forrester's 2021 report recognises Optimizely's strengths in several areas, awarding the vendor the highest possible score in five of these areas. We've explored the key themes identified by Forrester, and how these benefit Optimizely users.
Strong testing and optimisation, digital commerce and platform evaluation capabilities
Forrester recognise the important role of content in a customer journey, citing it as the 'soul of experience'. Moreover, Forrester highlight the importance of experimentation in enabling digital product teams to continuously test, learn and iterate, to optimise digital experience at scale. The Optimizely DXP is widely regarded as the market leader in digital experimentation, recently named as a Leader in Experimentation by Forrester.
Unified content and commerce offering
Optimizely's strengths across both content and commerce enable marketing and merchandising teams to create seamless and complete customer journeys, and manage these within a single solution. Rich experience management and platform services, including advanced personalisation and data-driven product recommendation capabilities, enable digital teams to better deliver personalised and relevant customer experience at scale.
Flexible licensing model
Forrester note that Optimizely customers like the flexibility of their licensing model. Optimizely's cloud offering delivers elastic scalability, meaning customers only pay for what they need today, with the agility to grow in an instant. This allows businesses to easily scale their digital experience as their business grows, and adapt to new opportunities as and when they arrive, rather than having to carefully plan IT infrastructure all at once. This price modelling is advantageous to high-growth businesses, such as those looking to enter new markets and launch country-specific sites.
Ease of use
The report cites customer satisfaction in ease of use for the Optimizely platform and its ease of implementation in comparison to other DXPs in the market. This reinforces one of the many reasons why Optimizely is Candyspace's DXP of choice. We create digital products that are loved by everyone. The ability to deliver human-centric digital experience to your customer is just as important to us as how easy the platform is for your team to use, delivering real benefits and value for your business.
Why Optimizely + Candyspace?
One of the key benefits of using a DXP is for the convenience of managing digital experience, content, commerce and data, within a single platform. An advantage of the Optimizely DXP is that all of these digital tools are tightly integrated within a secure and scalable platform, meaning that many of the platform features, such as advanced personalisation, are available out-of-the-box and ready to scale as your business grows.
At Candyspace, we take a human-centred approach to ensure we blend creativity and technology to create digital products that are loved by everyone. As a strategic Optimizely partner and digital product experts, we help businesses to get the most from their investment in Optimizely to drive both optimised digital customer experience, and help our clients to achieve their business objectives.
Read how we partnered with Optimizely to optimise Mazda UK's web platform.
How we can help
Speak to our digital product expert, Josh Rudofsky, to understand how we can help you to evaluate DXPs and make future-ready digital technology decisions.